Lyon Veterinary Public Health Initiative
Major public health, economic and social impact
An interdisciplinary approach around the concept of "Global Health"
NEWS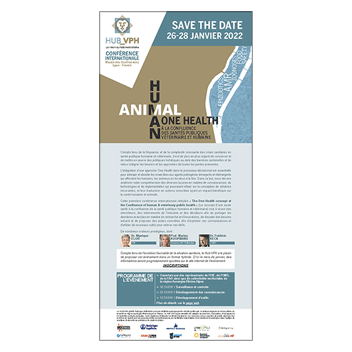 Conference "The One Health Concept: At the confluence of human and veterinary public health" 2022, January 26-28
---
October 21, 2021

READ MORE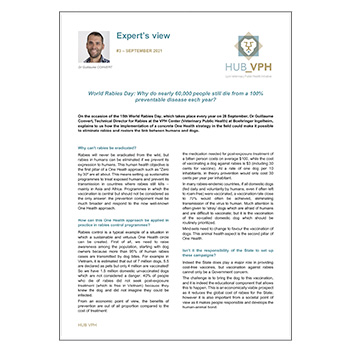 World Rabies Day: Why do nearly 60,000 people still die from a 100% preventable disease each year?
---
September 27, 2021

READ MORE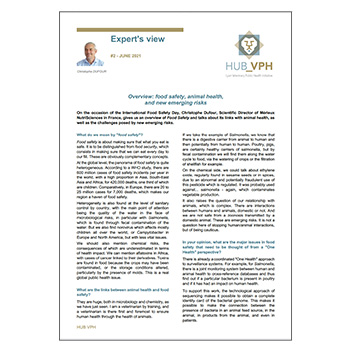 Overview: food safety, animal health, and new emerging risks
---
June 21, 2021

READ MORE
SHOW ALL THE NEWS
THE VPH HUB
The VPH HUB (Veterinary Public Health) is an unprecedented public-private initiative driven by 9 major players in the health ecosystem in the Auvergne-Rhône-Alpes region.
With a strong collaborative tradition well established in the Auvergne-Rhône-Alpes region, and convinced of the importance of taking up the international challenges of Veterinary Public Health, this first global hub in Veterinary Public Health has been created around a common desire: to become a leading global center in veterinary public health.
---
OUR SHARED VISION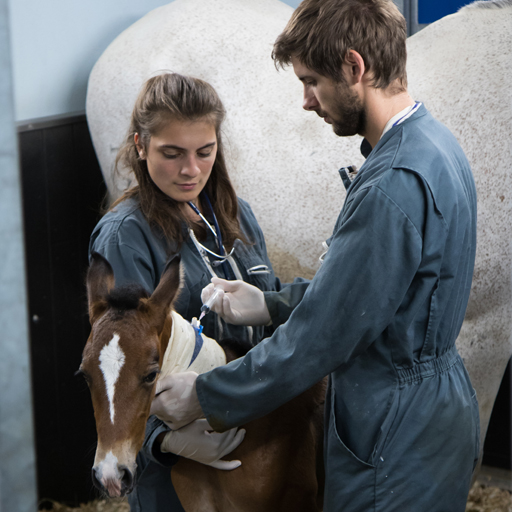 "Create and run an international public/private hub to analyze and spur action on Veterinary Public Health. This hub's goal is to catalyze research, innovation, education and industry in the Auvergne-Rhône-Alpes region. It is also aimed at promoting debate and generating advanced research and expertise, along with disruptive solutions for public authorities, professionals, university institutions and economic decision-makers with the ultimate goal of helpings solve global health challenges."
•
The common desire is for Lyon to become a leading global center in Veterinary Public Health
•
An international hub for coordinating multiple Veterinary Public Health initiatives
---
WHY LYON
Value Chain of the Veterinary Public Health Industry in the Lyon area widely represented on the territory
Lyon, birthplace of Infectiology, Vaccinology and Veterinary Public Health
Home of the oldest Vet School in the World
A World-Class Research in Veterinary Public Health
World industry leaders in Veterinary Public Health and a dense network of specialized SMEs and start-ups
A very attractive location for R&D: networks & supports
VETERINARY PUBLIC HEALTH
"Veterinary Public Health (VPH) is the set of actions that are directly or indirectly related to animals, their products and by-products, since they contribute to the protection, conservation and improvement of human health. That is to say, their physical, moral and social human well-being. It presents increasing challenges at the global level".
(definition of the Académie vétérinaire de France)
---
Major public health challenges
Control diseases that can be transmitted from animals to humans (zoonosis)
Fight antimicrobial resistance
Ensure food safety
Preserve biodiversity
Manage animal epidemic crises (epizootics) with high economic impact
---
PREVENTION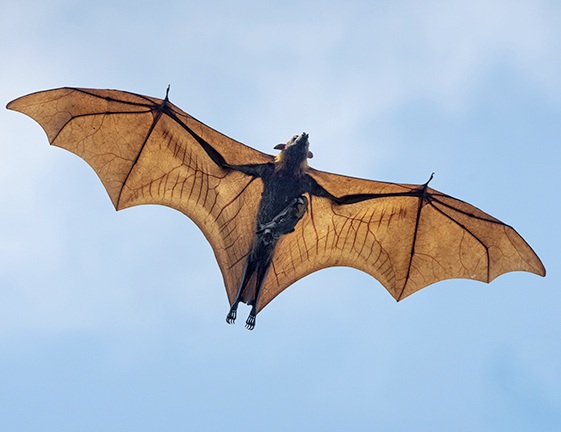 Certain diseases with essentially human-to-human transmission circulate in animals or have an identified animal reservoir and can cause serious health crises, as recently demonstrated by the Ebola virus disease epidemic (transmitted by bats).
Preventing and controlling the spread of these diseases play an essential economic, social and health role.
The protection of public health requires the development of global strategies for the prevention and control of pathogens, coordinated at the human-animal-ecosystem interface and applicable at the global, national and regional levels through the establishment of appropriate policies.
---
GROWING RISKS
Increase in international trade (animal goods, humans)
Emergence of new diseases and new virus strains
Context of population growth and increasing world demand for proteins
Climate Change
60 %
of infectious diseases and at least 75 % of emerging human diseases originate from animals
200+
known diseases from animals pose a severe threat to human and animal health
20 %
of the global animal production lost due to infectious diseases
$200
BILLION
over 10 years: global economic impact of epizootics
OUR ACTIONS
A HUB BASED ON 4 PILLARS OF ACTION
Initial training and continuing education
Fundamental and applied research
Economic development
Promotion of Veterinary Public Health and a community of experts
---
CREATION OF AN IDEX INDUSTRY CHAIR IN VETERINARY PUBLIC HEALTH
This joint "Academic & Industrial" initiative is led by Boehringer Ingelheim, the CNRS, the Université de Lyon, the Université Claude Bernard Lyon 1 and VetAgro Sup. It is part of the IDEX "Biosanté & Société" project.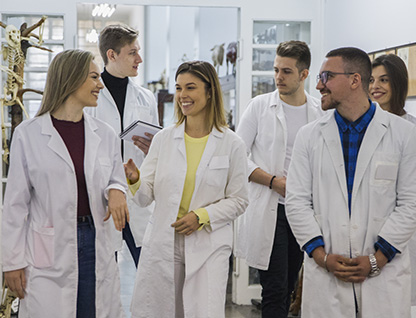 Its goal is to make Lyon "the" place for international training of decision-makers in the field of Veterinary Public Health by setting up :
Transdisciplinary training courses for diverse and international audiences with an international master's degree due to be launched by 2022/2023 and short "summer courses", etc.
High level research in evaluative and predictive epidemiology and animal health socio-economics, i.e. applied research to enable decision-makers in Veterinary Public Health to make the right decisions at the right time.
Concrete applications by promoting transfer opportunities between academic laboratories and industrial players.
---
PROMOTION OF VETERINARY PUBLIC HEALTH START-UP EMERGENCE AND SME ARRIVAL IN THE REGION
The goal is to create, attract, support and host start-ups and SMEs in the field of Veterinary Public Health in the Auvergne-Rhône-Alpes region, with the long-term goal of building a real sector to help Lyon become an international player in the field of Veterinary Public Health.
The Auvergne-Rhône-Alpes region has already many assets in the field of Veterinary Public Health, throughout the value chain, in particular thanks to an exceptional concentration of players.
By capitalizing on these assets, the VPH HUB has set its mission to implement an attractiveness strategy, alongside Aderly in particular, to develop the Veterinary Public Health sector in the region, i.e. :
Maintain and attract industrial and R&D investments
Fostering collaboration between companies of all sizes
Attracting new businesses
And encourage the creation of start-ups or innovative projects
---
LAUNCH OF AN APPRENTICESHIP AND WORK-STUDY PROGRAM
This project aims to promote health and biology professions in the broadest sense, to develop work-study and apprenticeship program on a regional scale.
In this perspective, the VPH HUB positions itself as a facilitator of work-study programs, by engaging in collaborations with the competent regional actors, developing relationships with schools, or working on forum projects.
Thanks to its collective dynamic, the VPH HUB wishes to mobilize, on behalf of the entire ecosystem, to help raise the profile of industrial professions and train young people in bioproduction professions.
PRESS
Press release
January 25, 2021
Veterinary public health: the VPH HUB creates an Idex-accredited Industrial Education and Research Chair promoting the One Health approach
January 14, 2020
The first worldwide hub in Veterinary Public Health created in Lyon
CONTACT
THE PARTNERS
THE FOUNDING PARTNERS
ASSOCIATED PARTNERS